get real work done!
meet. engage. ignite.
looking for a space for your next event?
Foundry and Forge is a unique venue for a variety of events, including networking meetings, community organizations, classes and seminars, client meetings, corporate events, and more. The events that take place in our space are an extension of our aim to provide for a space where folks can Meet, Engage in vibrant and creative conversation to spark ideas, and fan the flames of those sparks to Ignite and build. We have a large and small conference room, as well as, several office/desk options that can accommodate individuals, teams, and groups. The Captain's Compass is a separate building and can be reserved for events after hours.
We are located in Washington, North Carolina, and we are convenient to Downtown, Warren Airfield (OCW), and the Beaufort County Industrial Park.


Address
1011 W. 5th St.,
Washington, NC 27889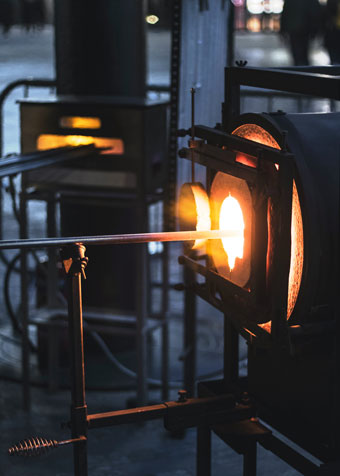 About Foundry and Forge
---
Why "Foundry and Forge"?
Foundry – A foundry is a factory that produces metal castings. Metals are cast into shapes by melting them into a liquid, pouring the metal into a mold, and removing the mold material after the metal has solidified as it cools.
Forge – The process by which one makes or shapes (a metal object) by heating it in a fire or furnace and beating or hammering it. That furnace is called the Forge.
Dawn's family have owned the property on W. 5th St. since the early 1960's when it was home to a Welding and Machine Shop where her Dawn's dad, V.P. Brinson, Jr. made a living for their family.
Dawn and her siblings, Van and Vaughna, spent many weekday afternoons on this property watching her dad design, build and create large and small metal projects for local customers.
After the welding shop closed in the late 70's, the buildings were rented by a local business.
Years later, when the buildings became available again, Dawn and her mom, Norleen Brinson, took the opportunity to remodel and re-purpose the buildings into a comfortable and welcoming space that could be used to bring people together and create a workspace/office space for startups and existing businesses.
OUR Buildings
---
There is an office building with 2 conference rooms, 6 offices, a 2-office suite, a breakroom, and 2 restrooms.
The offices are designed to be used as a single desk working space or a collaborative space where 2 or more people can meet.
Each of the rooms are named after the Brinson grandkids and great grandkids, Tabitha, Eric, Brinson, Eliza, Liam, Ainsley, Chase, and Alyvia.
The main coworking space is a one-room building named in honor of Capt. V.P. Brinson, Jr., the Captain's Compass. This space can be rented after hours and used as an event space.